Instant Energy &
Screen Fatigue Relief
Refresh tired eyes with our energizing eye drops
Almost instantly, my eyes felt more open and awake! -NPR

Good to the Last Drop
One of a kind fatigue solution
Feel It instantly
Compounds absorb very quickly through the eye
Multi-use
Use up to 4 times per day

Long lasting
Lasts longer than a cup of coffee, less than a 5 hour product
Fight screen fatigue
Patented formula targets the mechanism of the eye responsible for fatigue
1 Month supply
Each 15ml bottle has a 1 month supply
Focus & productivity
No screen fatigue means more focus and productivity
Instant Eye lubrication and relief • Instant Eye lubrication and relief • Instant Eye lubrication and relief • Instant Eye lubrication and relief • Instant Eye lubrication and relief • Instant Eye lubrication and relief • Instant Eye lubrication and relief • Instant Eye lubrication and relief • Instant Eye lubrication and relief •
Free Shipping on First Order
How to use
Put 1 or 2 drops in the effected eye(s) up to 4 times per day
Tightly screw on cap to seal after use
Enjoy your day free of screen fatigue!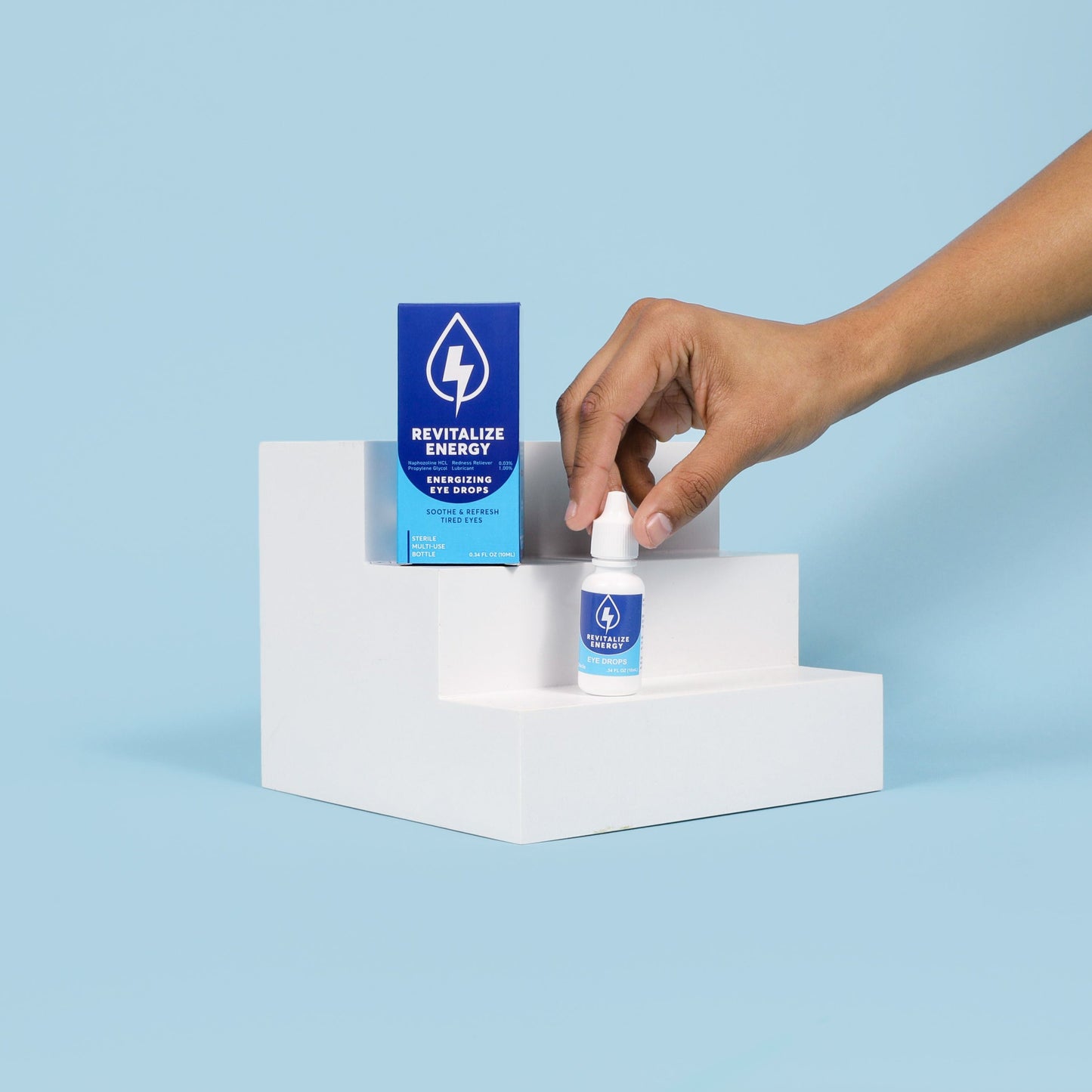 Our Commitment to Quality
Passed All Required FDA Testing
Revitalize passed all necessary irritation and stability testing within the FDA's guidelines
Trusted Manufacturing
Revitalize is manufactured in FDA registered facilities that follow cGMP (current good manufacturing principles) and are based in the United States
Formulated within FDA Guidance
All of Revitalize's ingredients fall within the FDA monograph or are in the FDA's Inactive Ingredient Database
More About Revitalize
Active Ingredients:
Propylene Glycol 1.0% Naphazoline HCL 0.03%
Inactive Ingredients:
benzalkonium chloride, boric acid, borneol, caffeine, camphor, menthol, potassium l-aspartate, purified water, taurine
Consult drug facts label before using and ask a doctor before using Revitalize if you have narrow angel glaucoma. Check to make sure safety seal is intact.
Remove cap. Put 1-2 drops in the affected eye(s) up to 4 times daily. Tightly screw on cap to seal after each use.
After applying Revitalize, users will feel a deep cooling sensation to stimulate the tear duct and help with the absorption of the remaining ingredients. From there users will feel their eyes refreshed and stimulated. That is our inactive ingredients interacting with the focus adjustment mechanism of the eye.

I have a Question
Join The Community